hedonism off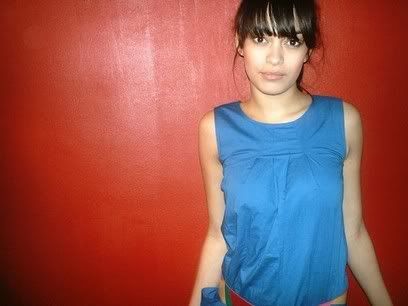 pic : judy

Pocahontas lost in the city, she doesn't even want to go shopping. Lipstick traces on a glass of Chardonnay, drugs stories have got no exotic charm anymore. Your clones are everywhere on the street, from the floor to the billboard, but you've got something different : you're my uncompromised version of the american dream.
Estelle - American Boy (Soul seekerz club mix)
We're both playing our own pretentious characters, yours' too cute for me to take seriously - but it still doesn't need me. Back then you weren't saying anything at all, now you're not giving a chance to silence, and if gadgets give life a substance, your camera is still useless - the shadow clicked but the film did not go round.
Quiiver - Surin
Now the doors of the metro are closing, and you keep your eyes down, a poor desperate princess who doesn't even need to be consoled, leaving like one of the small soap bubbles she was making. I look at my watch - my small black expensive watch - see the time ain't right again. I don't need the right time now that you're gone, i don't have plans anymore and no reasons to find any. As i'm coming home, there are busted ballons everywhere on the street, and i blame fate for this lazy metaphor.
Midnight Juggernauts - Shadows (M83 remix)
Tweet