spin spin sugar.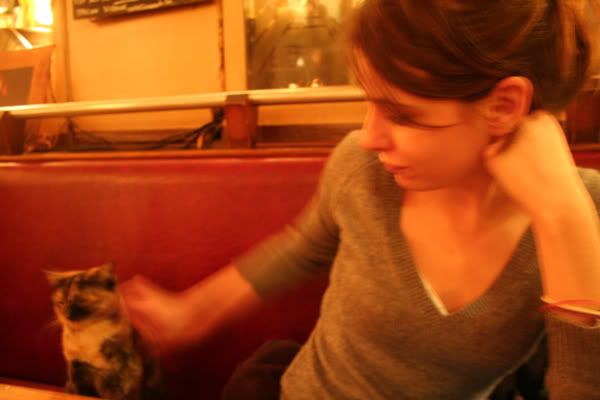 photo : la beauté nouvelle sera de situation
baaah je crois bien que j'ai envie de dire l'amérique c'est overrated... ok ils ont inventé les smoothie, ok, mais rien à voir avec la perfection de mon petit dernier préparé avec mon petit robot de cuisine dans l'amour parfait d'une coloc de filles, ça n'étais pas arrivé depuis 83 je crois.
une orange sanguine
une petite mandarine
4/5 fraises
une pincée de sucre
un verre a vodka d'eau pour diluer le tout
= smoothest smoothie ever.
un peu comme ce qui suit si la musique c'etait du smoothie :

The Whitest Boy Alive - Golden Cage (Fred Falke Remix)
ma nouvelle coloc est allemande elle a un nom tellement mignon et rigolo que c'est mon mot favori en ce moment je le dis à tout bout de champs. elle se nourrit exclusivement de sortes de thés bizarres/infusions et de fruits frais, c'est tout je crois, pourtant elle fait une vinaigrette du TONNERRE.
huile d'olive
vinaigre à la truffe
jus d'une mandarine
une cuillère de miel
un oignon jeune frais
concentré d'herbes sèches d'allemagne
= most piquante intriguing flavorful vinaigrette ever.
un truc super "piquante intriguing flavorful" aussi, c'est ce mix que nous a préparé
Out One
après la soirée Mean Girls
là
, quand il avait vraiment tout tourneboulé (comme d'hab je dirais) et que
Lecktra
dansait jolie douce fille. BEN JE CROIS que je préfère le subtle french flavor à l'américain gros sabots une fois de plus hein.

Out One - FlOut-hOuse
Subaltern – Forever ( Ben Macklin remix )
Da Fresh – Spaghetti groove
Marc Romboy vs Blake Baxter – House ya
Bootlickers – Wrap it up
Sneaker Pimps – Spin spin sugar ( Armand's dark garage mix )
Dj Hyperactive – Chicago
Vince J – Disco 808
Carl Craig – The Climax
The Pig – Konono
Shit Robot – Wrong galaxy
Romanthony – Ministry of love ( UK progressive mix )
Kiko – Italomatic
Tyree Cooper – Turn up the bass
ouais ben bref en fait je dit ça, l'amérique tout ça, la moitié des morceaux de ce mix ... hmmm bon on a le droit d'être de mauvaise foi, ptet ben c'est parce que je suis jalousie des
boys
la, moi aussi j'aimerais bien une semaine de fête non stop à SXSW avec tous les copains qui ont fait le déplacement i see you patrik north glen goetze delorean damb :(
EN MÊME TEMPS ICI CA VA AUSSI HEIN QUAND J'Y PENSE
*jeudi déjà on emmène lililoulé voir
numéro# au st ex à bordo#
, after party moustache ou vous savez, on pourra faire des smoothies vodka, des cocktails quoi, les fruits sont prêts, le robot est prêt, manque que la vodka.
*et vendredi fluokids avec
mon cher et tendre modular france
et tout un tas d'autres gens bien on vons propose une
panik
tout ce qu'il y a de plus sympathique avec dj nibc de trunk funk records
epitome
parfait de "l'attitude reggae des suédois", the lovely JONO de knife machine et lost valentinos un de mes groupes favoris d'australie, the presets en live, un de mes groupes live favoris d'australie (voir les vidéos de la tournée daft punk en oz folie furieuse), et brodinski qui a
perdu son téléphone
, envoyez lui donc votre numéro sur myspace il voudra peut-etre transformer ça en
date
au quick, on peut toujours rêver et M.A.N.D.Y. en dj set, une soirée mega physique en prespective.
redhotcar dit : jaime la fille de la photo de ton post
redhotcar dit : ce qui fait que l'amerique c'est overrated
redhotcar dit : c'est que les françaises sont dix fois mieux
Tweet