beverly hills have eyes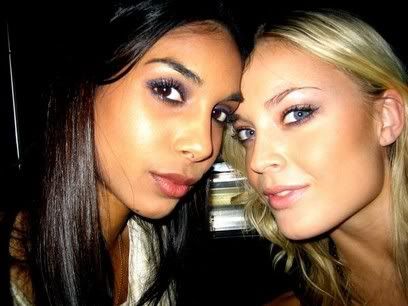 Pic: Danni & Charlotte
Oui je sais ça fait longtemps. On s'est manqués ? Pas vraiment. Pas le temps. Plutôt on a un peu tout manqué. Et on continue, comme on erre sur des avenues trop larges pour nos corps, en essayant de croire qu'on a une destination. Il fait vraiment froid, il est trop tard, on s'obstine.
Figurines - The Air We Breathe
Pas qu'on espère quelque chose de précis, mais il n'y a pas de raison valable pour s'arrêter, en tout cas beaucoup moins qu'il n'y avait d'envie au départ, tu sais le départ, quand tout grince un peu, que le coeur se soulève. Mojito sans sirop de canne, pour moi tu es un peu comme la reprise indie d'un standard que j'ai perdu la force de mépriser, et qui revient à la charge.
The Postal Service - Against All Odds
Je résiste un maximum, il y a des diversions faciles.
Will to joy
et ses accords dreamy. Ou cette fille par exemple : de la junk food dans un packaging séduisant, dealer de bonne conscience en option
.


It's all over my face,
Loose Joint
s
.
Une voix reprise par le
Jokers of the scene remix
de
Bad Runner
, de quoi parle-t-elle exactement ?
Quand la chanson s'est terminée, j'ai essayé de frapper dans mes mains pour me réveiller, mais ça n'a pas marché. Alors j'ai monté le flanger en m'approchant encore plus près.
De la junk food dans un packaging séduisant.
Animal Collective - Will to joy (live)
Diversions faciles ? Faire des listes en est une, regarder
MTV
en est une autre. Les deux ensemble c'est encore mieux :
Fluokids
a selectionné une trentaine de clips pour la
Zone Electro
du
5 septembre
sur
MTV Pulse
. Vous commencez à nous connaitre, vous savez à quoi vous attendre, du calibré 100% lécheur d'écran, de la matière épique post-technicolor, des choses plus ambigües ou troublantes. Prépare les cocktails, branche la chaîne sur la télé, ferme youtube et oublie le karaoké, c'est mercredi soir on s'occupe de tout.
Freezepop - Do you like boys ?
A part ça, Titeuf ou Moleskine, ton agenda reste un peu vide pour l'instant. Dans la techno on aime la précision, alors la saison d'un dancefloor actif recommence dès le
1er septembre
à
La Flèche d'Or
. Fusion des pouvoirs, sous le patronnage de
Tim Sweeney
,
votre serviteur
et
Brodinski
uniront leurs forces à celles de
Mikhail
et
Clems
du webzine référence
Get The Curse
,
pour une toute première
Diggin the grave
prête à réveiller les morts avec un défilé de pulsations élégantes. La première d'un millier de nuits à vivre cette saison ; délicatesse des insomnies,
Gregor Tresher
signe un morceau qu'on sort de la valise de l'été dans son statut de déjà classique.
Gregor Tresher - A thousand nights
Et puis on ne s'arrête pas là, et je ne sais plus quand on s'arrête en fait
: La Plus Grande Discothèque du Monde v.II
le 7 septembre oui, en
excellente compagnie
oui, 100% dance music d'anthologie, donc 67,9% de ma vie, qu'est-ce qu'il nous fallait de plus ? Que ça se passe à
L'Usine
à
Genève
, je n'entends pas siffler le train, on arrive sur quatre roues motrices et fenêtres ouvertes, j'entends déjà le moteur qui se plaint, et un échantillon de deep techno huileuse le calmer.
Aril Brikha
, Detroit, comme un avant goût doux des énergies qui nous agiteront là-bas.
Aril Brikha - Leaving Me
Tweet